CONSTRUCTION AND APPLICATION
The flexible copper stranded connectors are made of flexible stranded copper wires with solderless pressed ferrules at each side as contact areas.
The flexible copper stranded wires consist of Cu-ETP wires which are braided according to standard GB/T12970.2-2009.
TECHNICAL DATA
Material: annealed Cu-ETP wires, C11000, copper content ≥ 99.95%
Finish: bare, tin plating, nickel plating, silver plating
Single Wire Diameter:
0.05mm (AWG 44)
0.07mm (AWG 41)
0.10mm (AWG 38)
0.12mm
0.127mm (AWG 36)
0.15mm (standard)
0.20mm (AWG 32)
0.25mm
0.254mm (AWG 30)
Cross Sectional Area: 1.5mm2 - 2000mm2
When you place an order, please specify:
Cross sectional area
Length (L)
Ferrule Type & Hole Type
Hole Diameter (d)
Single Wire Diameter (default 0.15mm)
MODEL AND MEANING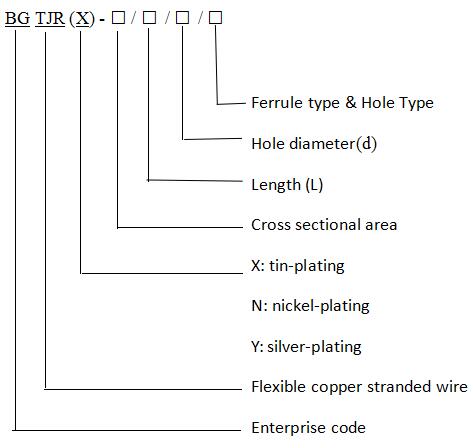 Customization Upon Request
Zhejiang Bridgold Copper Science And Technology Co.,Ltd is a professional leader China flexible copper connectors, flexible copper wire connectors, stranded copper connector, grounding flexible braid, round braided copper flexibles manufacturers and suppliers with high quality and low price. Welcome to contact us.